About Us

The Revelators Dance Troupe is a 501(c)3 multi-disciplinary arts education organization committed to cultivating raw talent in children and adolescents through culture, rhythm and movement. We stand on biblical principles and practices to physically and spiritually develop young people. We present quality programming aimed to inspire, strengthen and develop young people who minister and educate through dance.

We provide a safe artistic outlet for young people. It is intertwined with spiritual and cultural educational opportunities geared to ultimately lead them towards a successful path into adulthood.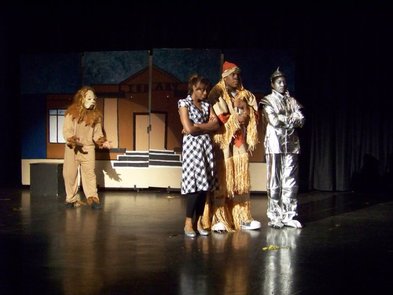 We provide a creatively safe environment for raw talent to develop at a speed that is enjoyable, constant and good for the soul.
Our History

In 1976, Artistic Director, Marion Archer, developed an after-school program that would help keep kids away from teenage pregnancy, drugs and crime. Bridging dance with her passion for ministry, she discovered an unusual concept that grew into what some may refer to as "praise dance" today. Although the fusion of ministry and dance raised eye brows amongst most traditionalists, the after-school program demonstrated a significant ability to attract and retain neighborhood kids. As a result, the program grew and steadily adapted to meet the needs of the creative, spiritual and learning communities.

In 1986, the Revelators began to attract a new audience-- boy. The rhythms and tremble of traditional West African Guinea style dancing lead curious boys to the peak hole of the company rehearsal space. Although traditional African Dance challenged their bodies, the unusual command of the Jambi and Dun Dun drums captured their hearts and minds.

Throughout the years, The Revelators have ministered to various sectors of government, education, corrections, and civic services. In 2008, The Revelators earned a non-profit excempture and expanded arts programming to include dance workshops, stage management training, light design, and sound technology-- for little to no charge at all.

To date, company members have collaborated with both dance and music industy icons to include: Pastor Donnie McClurkin, Hezekiah Walker, Tye Tibbett and songstress Vickie Winans.

Our Board of Directors


Morris Coleman - Chair

Patrice Moore - Vice-Chair

Patricia Dunn - Treasurer
Bonnie Archer - Member
Andria Brown - Member
Dr. Albert G. L. Thomas - Member


Founder
Marion Archer





Advisory Board


Karen Zambelli, Jeff Redd, Owen May, Yolanda Ferguson, Lowes Moore, Sheila Miller,
@ Copyright 2008 Revelators Inc. All Rights Reserved